Welcome to Temple Har Zion
We provide an authentic, exciting experience
that connects and elevates the human spirit!
At Temple Har Zion,
it's all about music, community and inclusiveness.
FIND OUT MORE
With so much going on, one needs to look at our calendar to see all that is happening.
VIEW CALENDAR
Interested in visiting or
joining Temple Har Zion?
We'd love for you to experience our services and programs.
THZ this week
Today's Calendar
Confirmation Retreat Weekend
Morning minyan

: 7:15a
Carefirst Seniors Exercise

: 9:30a
Candle Lighting

: 4:28p
Seudah
: 6:00p
Service
: 6:30p
---
Tomorrow's Calendar
Confirmation Retreat Weekend
Breakfast and Torah Study with Rabbi Stroh

: 9:00a
Shabbat Morning Service

: 10:30a
---
View Calendar
This week's Torah portion is

Parashat Chayei Sarah
Erev Hanukkah
Ask, Read, Watch: We're here for you
Did you miss the Rabbi's D'var Torah or enjoyed it and like to read it?
---
Have a question about worship
or an aspect of Judaism,
in general?
Watch us live!
or watch a previous service
Upcoming Events
All Events
MOSAIC | Annual Peace Meal @ Jaffari Islamic Centre


Sunday, November 24th

2:30p

to

5:00p




Kindly RSVP online.

Rosh Chodesh | Laughter - the best medicine


Monday, November 25th

12:30p

to

2:30p




BRING YOUR LUNCH @ NOON SO YOU CAN EAT & SCHMOOZE

Sisterhood Event | Hereditary breast and ovarian cancer: what you need to know


Tuesday, November 26th

7:30p

to

9:30p




Oneg | Dr. Raphael Folman: Ghetto Fighters' Kibbutz and Holocaust Memorial


Friday, November 29th

9:00p

to

10:00p




Kindly RSVP online.

Israel Culture Club | Sufganiyot Hanukkah Competition


Tuesday, December 3rd

7:30p

to

9:30p




Soufganiyot Hanukkah Competition! Please RSV online.

MHARZY | JHAZY | CLUB 5/6 - Toronto Marlies' Hockey Game


Shabbat, December 14th

2:00p

to

8:00p




Tickets are only $20! You must REGISTER ONLINE by December 10.

Hanukkah Party | Kids & their Families


Tuesday, December 17th

5:30p

to

7:00p




Edible dreidels, latkes, soufganiyot & more! KIDS are FREE! Please RSVP online!

Sisterhood | Annual Hanukkah Dinner


Thursday, December 19th

7:00p

to

10:00p




Kindly RSVP by Monday December 16.

Sisterhood Program | Munchies & A Movie - Rabbi Weiss: The Interpreter


Tuesday, January 7th

7:30p

to

9:30p




Kindly RSVP online!

Brotherhood Event | Dr. David Saslove: Emergency Medicine & the Impact of Addiction on it


Tuesday, February 11th

7:30p

to

9:30p




Brotherhood Event | Rabbi Weiss: Jewish Music/Jews in Music


Tuesday, March 31st

7:30p

to

9:30p




Brotherhood Event | Sheldon Parker: Internet Security & Identity Fraud


Tuesday, May 26th

7:00p

to

9:00p



Our Larger Community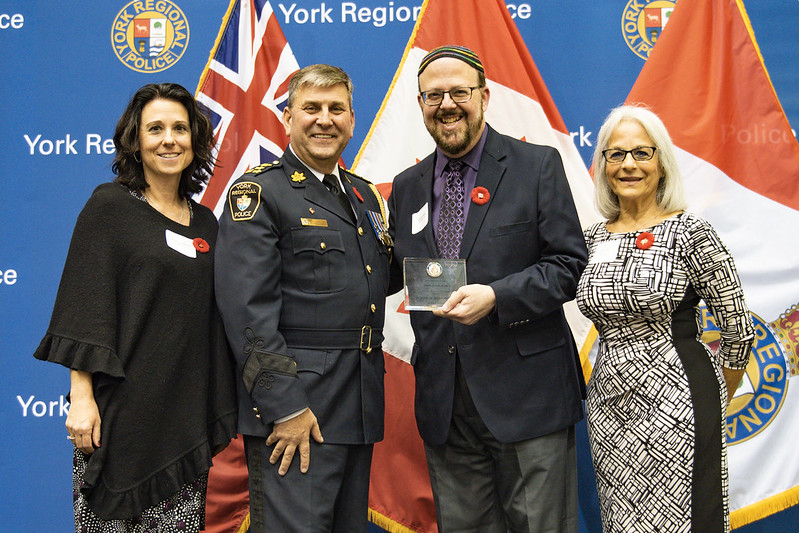 Hazzanit Tara Abrams, Chief Eric Jolliffe, Rabbi Cory Weiss, President Brena Taylor
Temple Har Zion was thanked by York Regional Police (YRP) for hosting their members as part of the Places of Worship Tours. Since its inception, more than 1,500 members of YRP have experienced the tour and learned about the importance of inclusivity in the community.
Land Acknowledgement
At Temple Har Zion, we acknowledge that we are situated on Traditional Territories and Treaty Lands. The territories include the Wendat, Anishinabek Nation, the Haudenosaunee Confederacy, the Mississaugas of the New Credit First Nations, and the Métis Nation.
As Jews and as a community, may we always strive to fulfill our Jewish value of Tzedek Tirdof – the pursuit of justice in our society.
Fri, November 22 2019 24 Cheshvan 5780